About Us
Naatak is the largest Indian theater company in the United States. Founded in 1995 by students at UC Berkeley and Stanford, Naatak is dedicated to producing intelligent and entertaining plays in the San Francisco bay area. Over 25 years, our plays have been watched by more than a hundred thousand. Our members – more than a thousand – are drawn primarily from the tech industry in Silicon Valley, and so is our audience. Naatak has been declared Best Live Theatre in Silicon Valley by the San Jose Mercury News for five years in a row, 2015 to 2019.
Stay in touch with us on Facebook and Twitter, or through our mailing list.
---
Artistic Director

Operations Director

Treasurer

Sets Director

Art Director

Costumes Director

Lights Director

Marketing Director

Props Managers

Production Designer

Marketing Managers

Lights Managers

Sets Managers

Make-up Manager

Costumes Managers

Event Managers

Supertitles Managers

Box Office Manager

Asheesh Divetia

Snigdha Jain

Soumya Agastya

Srikar Srinath

Vikas Dhurka

Saurabh Jain, Devika Ashok, Anitha Dixit, Harshavardhana

Savitha Samu

Sudipta Chatterjee, Anush Moorthy

Ritendra Datta, Rajeesh Tripathi, Anitha Dixit

Nalin Gupta, Parin Maru

Roshini Sadhwani

Tuhina Goel, Avnika Agarwal, Aditi Honawar

Poulomi Sarkar, Pratiksha Rao

Vineeta Singh, Sameer Pandya

Ratul Ghosh
---
Guidelines
We have set ourselves a few guidelines to ensure that Naatak strives to achieve its twin goals: the pleasure of good theater to our audience – unsullied by appeals, announcements, speeches or banners – and the satisfaction of creative activity to our members.
1. Naatak was founded to bring intelligent and entertaining theater to residents of the San Francisco bay area. Our shows are not fund-raising events.
2. Our plays will be managed frugally.
3. As far as feasible, all work related to our plays will be performed by Naatak members.
4. In most cases, a person who wishes to direct or produce a Naatak play must have been significantly involved in at least two recent productions, and must commit to abide by the principles on which Naatak was founded.
5. During Naatak shows, the inside of the theater must not contain advertisements for any organization, program brochures must not contain advertisements for non-Naatak events or products, and there must be no non-Naatak announcements before, during or after the play. All organizations must seek approval to advertise outside the theater, including the lobby and parking lot, and approved organizations must agree not to solicit our audience inside or outside the theater with flyers.
---
Join Us
If you enjoy creative theater, you are welcome to join Naatak. You could participate as an actor, script-writer, director, producer, set-designer, make-up artist, light or sound person, or you could help in sales, marketing and publicity. Previous theater experience is desirable but not a requirement. For more information, contact info@naatak.org.
---
Join Our Mailing List
If you would like information on upcoming Naatak productions and auditions, join our mailing list by subscribing here.
---
Non-Discrimination Policy
Naatak does not discriminate against any person, population group or organization with regard to categories protected by applicable United States law. These include but are not limited to race, color, religion, sex, gender expression, physical appearance, language, education background, national origin, age, disability and veteran status.
---
Naatak House
2110D Walsh Ave, Santa Clara, CA 95050, info@naatak.org, 408-499-5692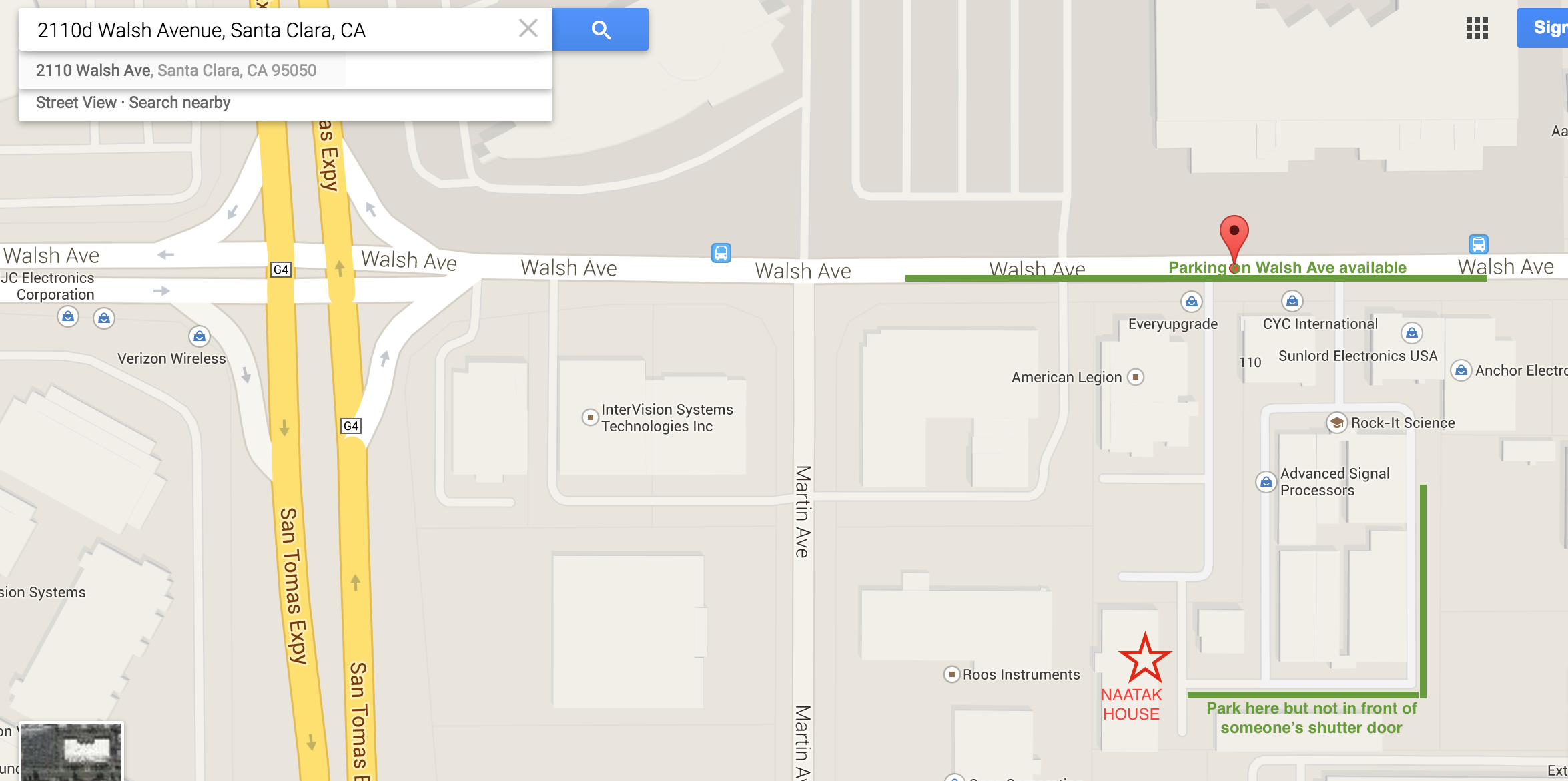 Please park in designated areas shown in the map. Do not park in the adjoining Mission City Post parking lot.
---
Comments
comments