Naatak's 65th Production
MAHABHARAT
(in Hindi, with supertitles in English)
Show Dates: September 2 – September 23, 2018
adapted for the stage and directed by Sujit Saraf
produced by Soumya Agastya
---
About the Play
It is said that every story that can possibly be told has been told in the Mahabharat. We will stage the greatest epic ever written by imagining it with fanciful costumes, sets and props, presenting it with live music and dance, and setting it in an undefined era that could be modern, ancient or anywhere in between. This will be the largest production in Naatak's 23 years. There will be as many as 50 people on stage, weaving theater, dance and music into an intricate presentation.
Original music composed by Nachiketa Yakkundi, and performed live by Nachiketa and team.
Original dance choreography by Archana Kamath, Soumya Agastya, Pragya Dasgupta and Nisha Natraj
MAHABHARAT is part of Naatak's 2018 Season.
Language: Hindi, with supertitles in English
Run-time: 2.5 hours (includes a 15-min intermission)
Children under 7 will not be admitted
---
---
Showtimes & Venue
SHOWTIMES
Sep 2, 6 pm
Sep 3, 6 pm
Sep 7, 8 pm
Sep 8, 2 pm
Sep 8, 6 pm
Sep 9, 6 pm
Sep 14, 8 pm
Sep 15, 2 pm
Sep 15, 6 pm
Sep 16, 6 pm
Sep 21, 8 pm
Sep 22, 2 pm
Sep 22, 6 pm
Sep 23, 2 pm

---
Tickets
---
Seating Categories
This is the seating chart in Cubberley Theater. Rows 2 and 3 (center section) are VVIP seats, the best seats in the house. Rows 1, 4, 5 and 6 (center section) are VIP seats. The remaining seats are General. When we perform at other theaters, we will use equivalent seating charts.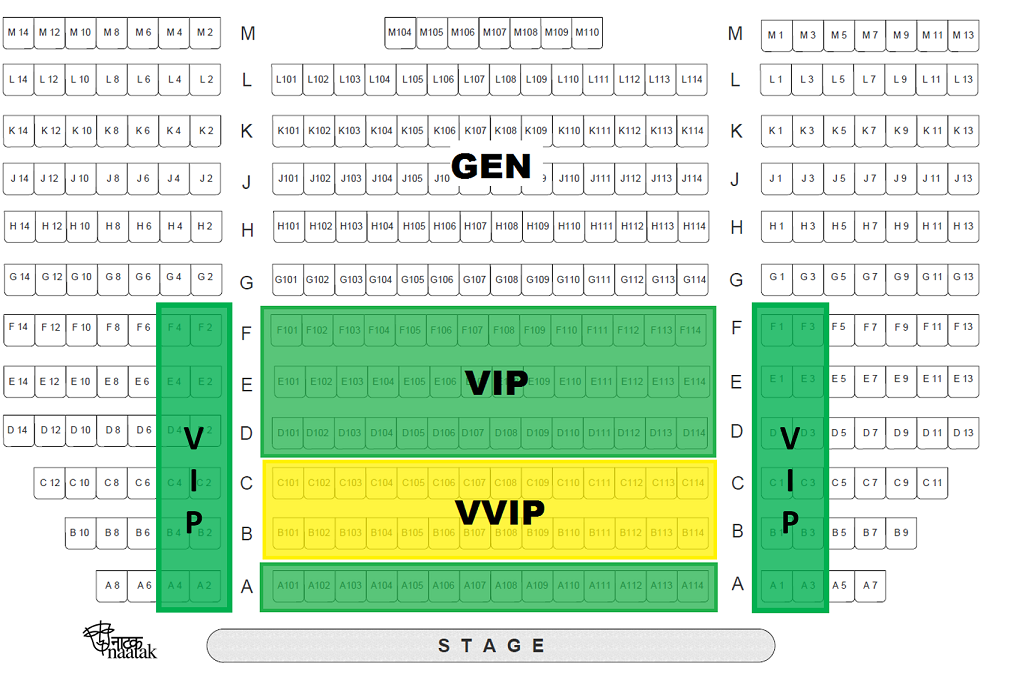 Comments
comments