Revolution Slider Error: Slider with alias mela-2016 not found.
Maybe you mean: 'scroll-effect3' or 'home-square' or 'flickr-gallery6' or 'home-new' or 'splashpage' or 'toba-tek-singh-2017'
Naatak Presents its 55th Production
5 Short Plays in 5 Languages
Mela '16
મેળો · मेळा · মেলা · மேளா · मेला
(With Super-Titles in English)
Show Dates: November 19 – December 4, 2016
Venue: Cubberley Theater, Palo Alto, CA
---
About the Plays
In Naatak's 55th production, we celebrate India's heritage by staging a bouquet of short plays, each witty and humorous, each in a different Indian language. The scripts are by playwrights all over the world, including masters such as Satyajit Ray, Roald Dahl, and George Bernard Shaw. Each show will consist of five short plays staged in quick succession, and will have super-titles in English.
1. অমর্ত্য (Bengali) – IMMORTAL
Based on ময়ূরকণ্ঠী জেলী ("Mayurkanthi Jelly"), a short story by Satyajit Ray
Adapted, directed and produced by Bodhi Das
Cast: Anirban Chakraborty, Soumya Chakravorty, Sudipta Chatterjee, Anindita Mukherjee, Sayantanee Dutt
When a scientist dies unexpectedly, his friend embarks on the project of publishing his work and finds himself entangled in a web of love, friendship, and ethical dilemmas.
2. ஆடு பலி ஆட்டம் (Tamil) – THE GOAT SLAUGHTER GAME
Based on "Lamb to the Slaughter", a short story by Roald Dahl
Adapted and directed by Mahesh Umasankar | Produced by Gopi Rangan
Cast: Savitha Samu, Anush Moorthy, Dilip Ratnam, S Suresh, Venu Subramaniam
Shattered by the discovery that her husband is leaving her, a devoted housewife retaliates, gathering the pieces rather cleverly.
3. गारे की दीवार (Hindi) – THE MUD WALL
Written by Narendra Kohli
Directed by Monica Chitkara | Produced by Vineeta Singh
Cast: Deepal Pandya, Ashok Vijay, Manasi Deshmukh, Ankur Jain, Chinmay Vaidya
Having moved to a new house, a family is visited by a thief whose arrival throws their lives into confusion.
4. Logging Out (Marathi)
Written by Dharmakirti Sumant
Directed by Aditya Kulkarni | Produced by Chakrapani Chitnis
Cast: Mandar Khoje, Gauri Jog, Kiran Pandhare
A girl prefers to live in the virtual world when talking to her boyfriend, but becomes acutely aware of her loneliness when forced to share her physical world with neighbors.
5. જુઓ શી કલા થી મે તમને છુપાવ્યા (Gujarati) – LOOK HOW ARTFULLY I PROTECTED YOU
Based on "How He Lied to Her Husband" by George Bernard Shaw
Adapted by Vikas Dhurka and Paresh Vyas | Directed by Vikas Dhurka | Produced by Alka Sippy
Cast: Ekta Brahmakshatri, Snehal Pachigar, Sanju Pancholi
A married woman and her lover get into a pickle with her husband and then get out of it.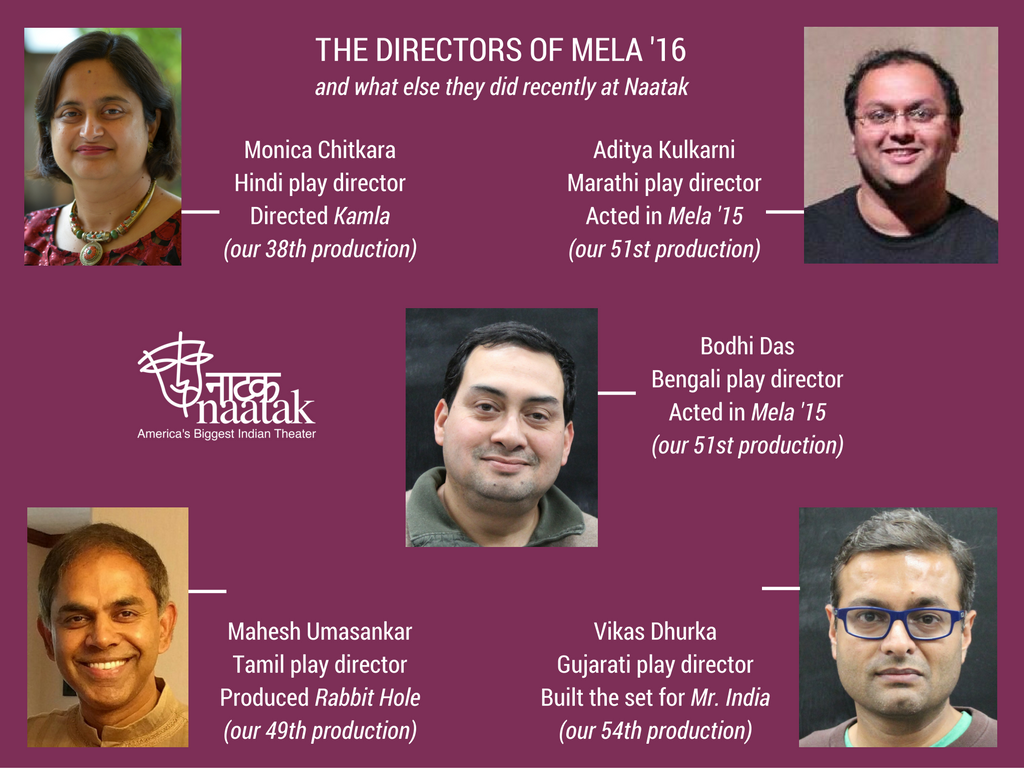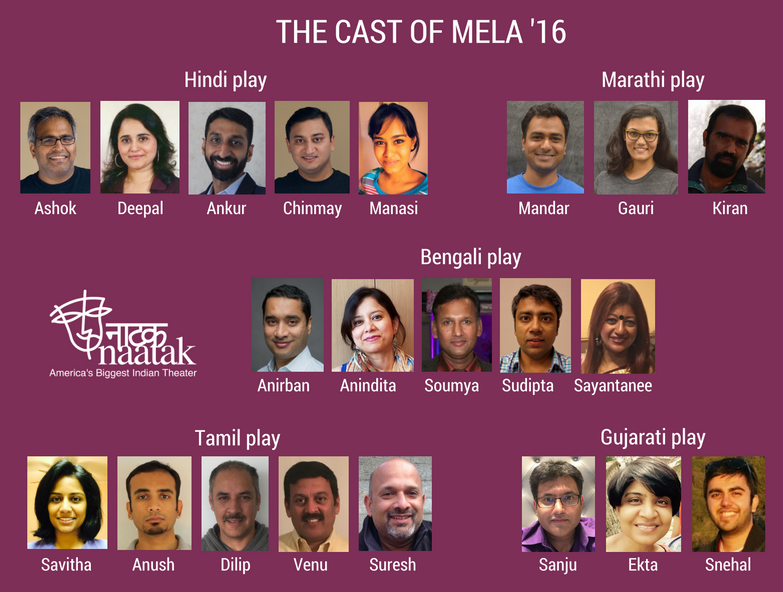 Language: Five Indian Languages (with English supertitles)
Run-time: 2 hours 40 minutes
Children under 7 will not be admitted
---
SHOWTIMES
SAT Nov 19, 6 pm
SUN Nov 20, 4 pm
FRI Dec 02, 8 pm
SAT Dec 03, 6 pm
SUN Dec 04, 2 pm

TICKETS
Individual Tickets
General:    $25
VIP:   $35
Group Tickets (for 4+ tickets)
General Group: $22
VIP Group: $32
**Deep discounts available for 10 or more tickets. Please call 408.499.5692 or email tickets@naatak.org

---
Videos
Mela'16 – A Festival of Short Plays
Marathi Play Trailer
Bengali Play Trailer
Hindi Play Trailer
Gujarati Play Trailer
Tamil Play Trailer
What's in Mela'16
Mela Director's Intro
Mela Intro by Dilip and Ashish
---
Tickets


Brown Paper Tickets Ticket Widget Loading…

Click Here to visit the Brown Paper Tickets event page.
---
Comments
comments