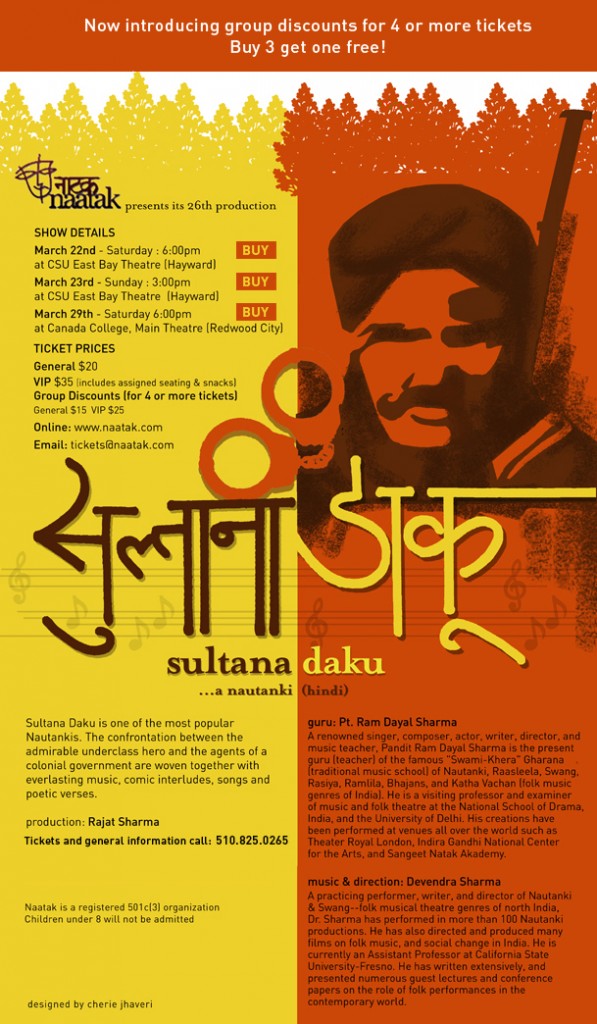 Naatak presents its 26th production
सुल्ताना डाकू
A Nautanki in Hindi
CSU East Bay Theater, Hayward, CA and Canada College, Main Theater, Redwood City, CA
March 22-23 & 29, 2008
Music and Direction by Devendra Sharma
Produced by Rajat Sharma
---
About the Play
सुल्ताना डाकू is one of the most popular Nautankis. The confrontation between the admirable underclass hero and the agents of a colonial government are woven together with everlasting music, comic interludes, songs, and poetic verses.
Guru: Pt. Ram Dayal Sharma
A renowned singer, composer, actor, writer, director, and music teacher, Pandit Ram Dayal Sharma is the present guru (teacher) of the famous "Swami-Khera" Gharana (traditional music school) of Nautanki, Raasleela, Swang, Rasiya, Ramleela, Bhajans, and Katha Vachan (folk music genres of India). He is a visiting professor and examiner of music and folk theater at the National School of Drama, India, and the University of Delhi. His creations have been performed at venues all over the world such as Theater Royal London, Indira Gandhi National Center for the Arts, and Sangeet Natak Academy.
Music and Direction: Devendra Sharma
A practicing performer, writer, and director of Nautanki & Swang – folk musical theater genres of north India, Dr. Sharma has performed in more than 100 Nautanki productions. He has also directed and produced many films on folk music, and social change in India. He is currently an Assistant Professor at California State University, Fresno. He has written extensively, and presented numerous guest lectures and conference papers on the role of folk performances in the contemporary world.
Language: Hindi (with English supertitles)
Run-time: 120 minutes
Children under 8 will not be admitted
---
SHOWTIME
SAT Mar 22, 6 pm
SUN Mar 23, 3 pm
SAT Mar 29, 6 pm

Tickets
General: $20 ($15 for 4 or more tickets)
VIP – includes assigned seating and snacks: $35 ($25 for 4 or more tickets)
VENUE
CSU East Bay Theater,
Hayward, CA
Canada College, Main Theater,
Redwood City, CA

Comments
comments