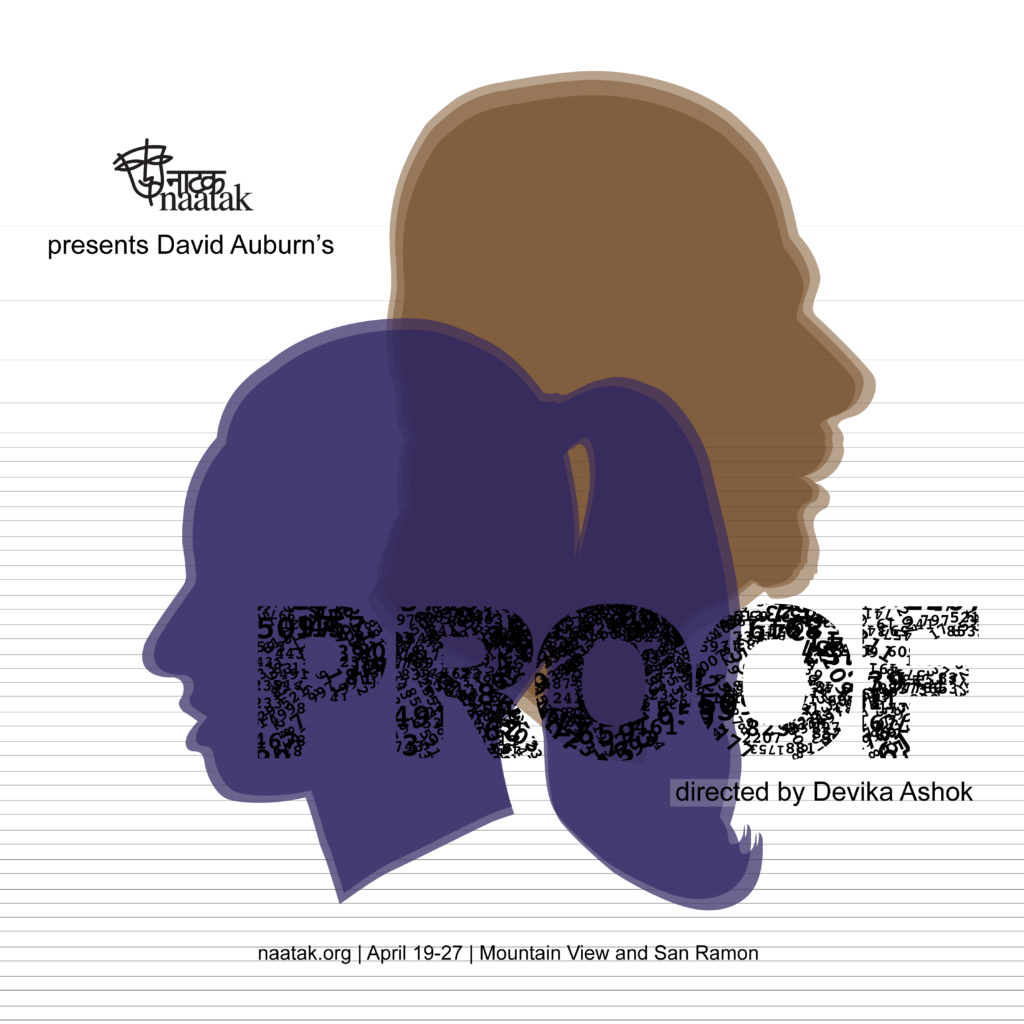 Naatak's 68th Production
Proof
by David Auburn
(a play in English)
directed by Devika Ashok
About the Play
The acutely intelligent daughter of a deceased genius mathematician brings to light the truth behind a mysterious mathematical proof her father may have left behind. Before that, however, she must confront her rocky relationship with her estranged sister and nurture the nascent bond with her father's ambitious young student. PROOF swept the Pulitzer Prize for Drama, the Drama Desk Award and the Tony Award for Best Play in 2001 when it first appeared on Broadway.
Cast: Rinki Suri, Mukund Marathe, Arjun Chemparathy, Kamala Subramaniam
Run Time: 90 minutes
Showtimes
CAMPBELL
Sunday April 14, 4pm
MOUNTAIN VIEW
Friday April 19, 7:30pm
Saturday April 20, 3pm and 6:30pm
Sunday April 21, 3pm and 6:30pm
SAN RAMON
Friday April 26, 8pm
Saturday April 27, 6pm
---
VENUE
MVCPA
Front Row Theatre
Starbright Theatre
---
This pass includes Proof and 4 other plays | GEN: $79, VIP: $119
OR
Buy Single-Play Tickets
April 14, Starbright Theater, Campbell
Available only for season pass holders. Click here to buy a season pass.
April 19-21, MVCPA, Mountain View
Buy at the MVCPA website. Click Here
MVCPA charges a $2 facility-use fee per ticket, and a $5 convenience fee for online orders. If you buy at the MVCPA Ticket Office at 500 Castro St, Mountain View (Wed-Sat, 12pm-6pm), there is no convenience fee.
April 26-27 Front Row Theater, San Ramon
Please Click Here .
OR
Already Have a Season Pass?