MAKING A FARCE OF IT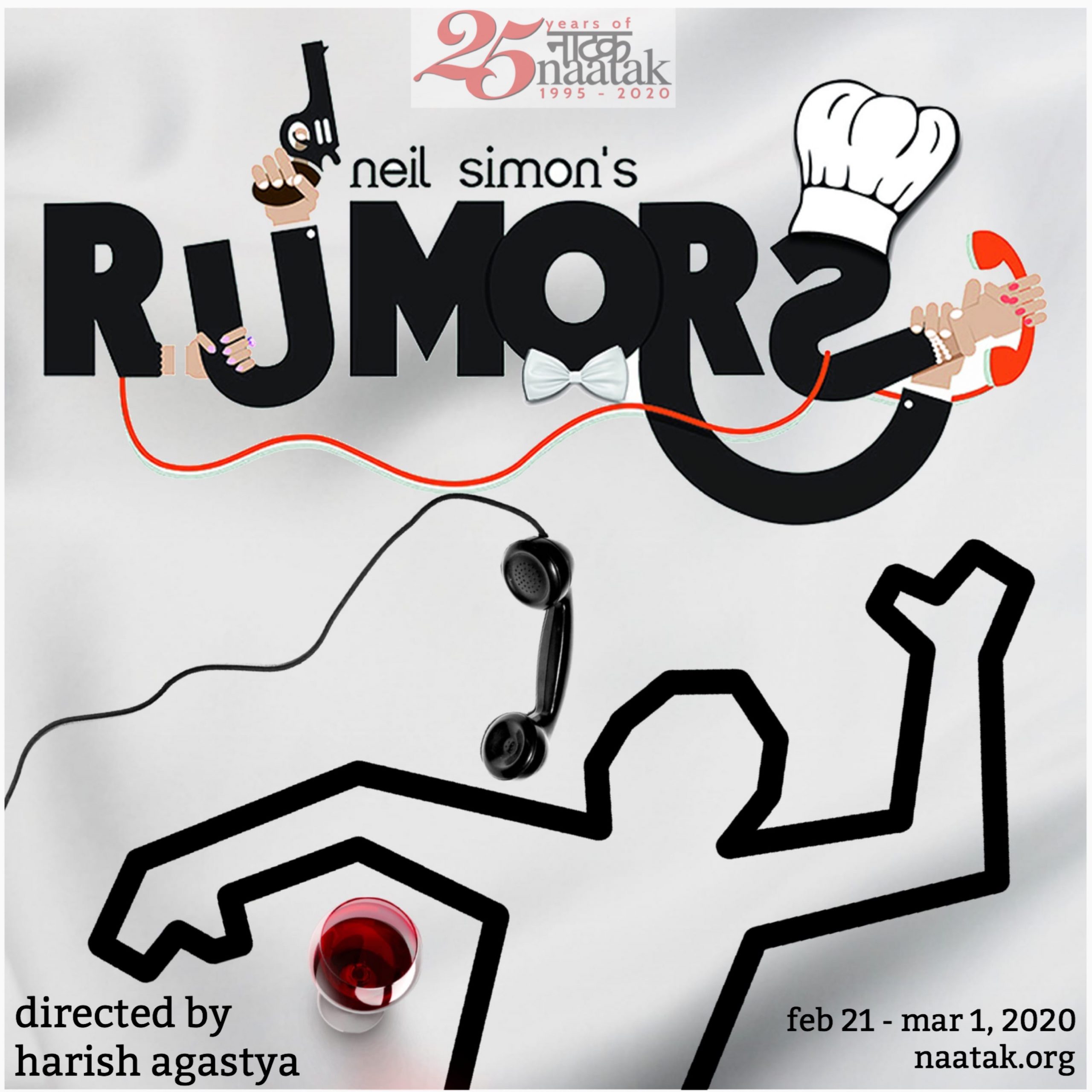 We need more comedy in our lives. Our jobs are too stressful, our politics is too polarized, and our food is too fattening. A perfect time then to kick back and unwind with Neil's Simon's RUMORS, the first play of our silver jubilee season, that also serves as a cleverly disguised cleansing agent for stress toxins and an antidote for RBF syndrome.
Rumors is considered the funniest farce written by Neil Simon. A celebrity couple have invited their friends to celebrate their 10th wedding anniversary, but as guests arrive they discover that the husband has shot himself through the ear, the wife is missing, and the servants have left without preparing dinner. To protect the hosts from scandal and ignominy, the friends attempt to cover up the whole episode – from the outside world and from each other – setting off a spiraling web of secrets, lies and misunderstandings, and a crazy night of classic slamming-door farcical hilarity.
Farce is one of my favorite genres of theater. Some of my most rewarding experiences in my 25 years with Naatak have been in comedy and farce – directing Noises Off and Muavze and performing in Neil Simon's other classic The Odd Couple (as Felix Unger/Fanindra Upadhyay) are on top of the list.
Yet farce is one of the more challenging genres to direct or perform in. While all comedy is about timing, a physical comedy with all those slamming doors and pratfalls is about crazy precision. Every joke, every action, every expression has to be doled out in the right measure. Every rehearsal is a roller-coaster ride and a cooking show at the same time.
On top of everything, with such a witty script, the jokes come fast and hard yet the actors are supposed to keep a straight face through it all. We have broken the no-laugh rule so many times in the last 2 months of rehearsals, that it's not funny. If laughter is indeed therapy, my team and I are all on the happy path to wellness.
We hope you enjoy Rumors as much as we enjoyed putting it together for you. It's time to detox.
Harish Agastya
DIRECTOR.
Comments
comments