Naatak's 50th Production – Vrindavan: Theater Talk
September 21, 2015 Reviews / Vinod Narayan / Vrindavan
This article was published on September 20, 2015 by Vinod Narayan
Naatak's 50th Production – Vrindavan: Theater Talk
By Vinod Narayan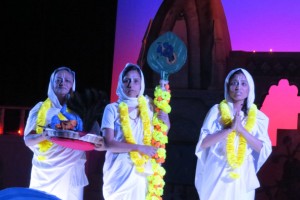 There are customs, there are traditions, beliefs, stories, mythology and more then entangles in all this there are people. People with emotions, pains, love, life, joy, sadness and more. There is a companionship that is connected to the situation and relationships build on a chord of being same. And above all Human value should always guide any existence. Vrindavan is an ambitious musical production and Naatak's 50th production telling you the story of the widows in Vrindavan.
As I was watching the play, what struck me is that only a humanist with a very strong responsibility to excavate human emotions from around them can conceive a story like this because it highlights both the plight and power of life's own redefinition that is embroiled in a tradition. India as we all know is a very complex place and tradition and culture is part of life and often in many quarters blurs that line between myth, history and present. It is often not a straight line through which one walks. You need to carefully tread…
Vrindavan mixes some fact with fiction and is written and directed by Sujit Saraf the founder of Naatak and inspired (as mentioned in the intro video below) by the incident when Hema Malini the MP from Mathura makes a statement that the Widows from bengal should remain Bengal. This one statement put in motion a major discussion and what Sujit saw was this play. Thanks Sujit that is why I said first "a very strong responsibility to excavate human emotions from around them"
The custom of widows coming to Mathura Vrindavan Area has been going on for over 500 years. 'Coming' is not the right word for everyone I guess because there are also many who have been brought there in the name of tradition, beliefs and also because the lack of support and the fact that some places widow is the end of a road.
But the play is not about why the custom, it is about the life of widows in vrindavan the value of human lives who have nothing beyond Vrindavan. Vrindavan is all they have, the present, future and for some even have reconstructed their past surrounding Vrindavan and claim to even be born there or so they believe….
Kudos to Naatak and the entire team for bringing such a large play with so many actors and dancers and the musicians and Vocalists performing live…
Looking forward for the next one.
Friends Here is the Intro:
---
Comments
comments