"Mr India" Review by BAY AREA PLAYS
This article was published on September 17, 2016 by Bay Area Plays
Saraf blends two political worlds in Naatak's 'Mr. India'
By David John Chavez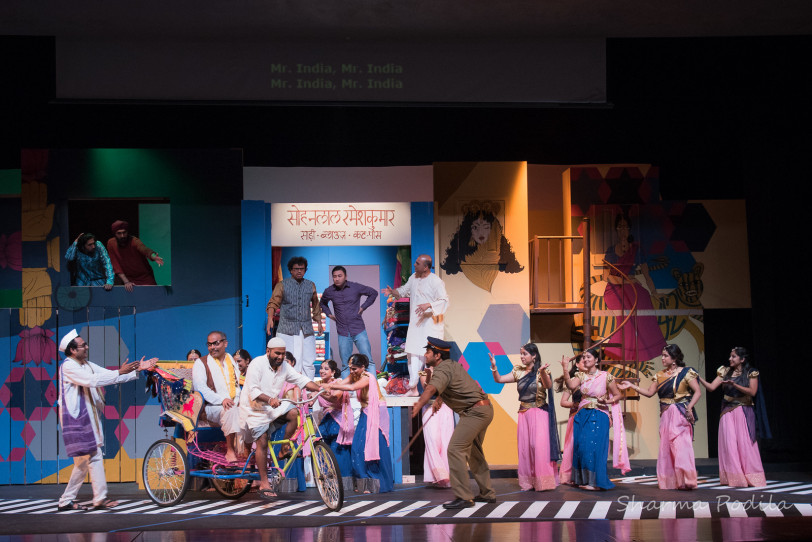 The crowded marketplace of Delhi, India is the backdrop for "Mr. India," the story of a simple tea seller's unlikely rise to power. (Naatak photo)
A simple tea seller.
It is this half-blind everyman who finds himself in the middle of a political storm, a working-class citizen who is just moments away from becoming the most important political figure in a vast country of more than 1.2 billion people.
Politics in India are as large as the country they live in. There are six national parties, many more state parties, and hundreds of regional parties. The field of Republicans in the 2016 United States presidential election is nothing compared to what an Indian presidential candidate needs to leapfrog in order to land such a commanding position of power.
But how does a man so common, with such a simple profession, become a serious contender for the highest office in the second most populous country in the world?
It's a question that has been asked in fiction many times. Chauncey Gardiner from the 1979 film "Being There" immediately comes to mind. And watching Donald J. Trump, a real estate mogul and reality television star who has a hold on the Republican Party, creates a parallel to this simple uneducated man who knows next to nothing about politics.
The South Bay Area's Naatak Indian Theatre is presenting "Mr. India," a play that explores this phenomenon that may seem to be a new concept, but in reality, is as old as time. Based on the 2007 novel "The Peacock Throne," the farcical play covers a five years stretch that begins with the 1984 anti-Sikh riots which followed the assassination of Prime Minister Indira Gandhi by two of her own security guards.
Naatak (the Hindi word for drama) has a reputation for productions that feature lots of spectacle, and this production is certainly on a large scale, one of their largest ever. There are elaborate sets, intricate Bollywood choreography and as many as 50 company members on stage at the same time. This is Naatak's 54th production, a stretch that spans the past 21 years. The production, much like the company, is a labor of love, many of the company members holding full-time jobs as engineers and other positions in Silicon Valley.
Sujit Saraf, who wrote "The Peacock Throne," and adapted and directed his novel for the stage production, might have written the story as biting satire, but is clearly seeing reality set in as the 2016 election draws closer.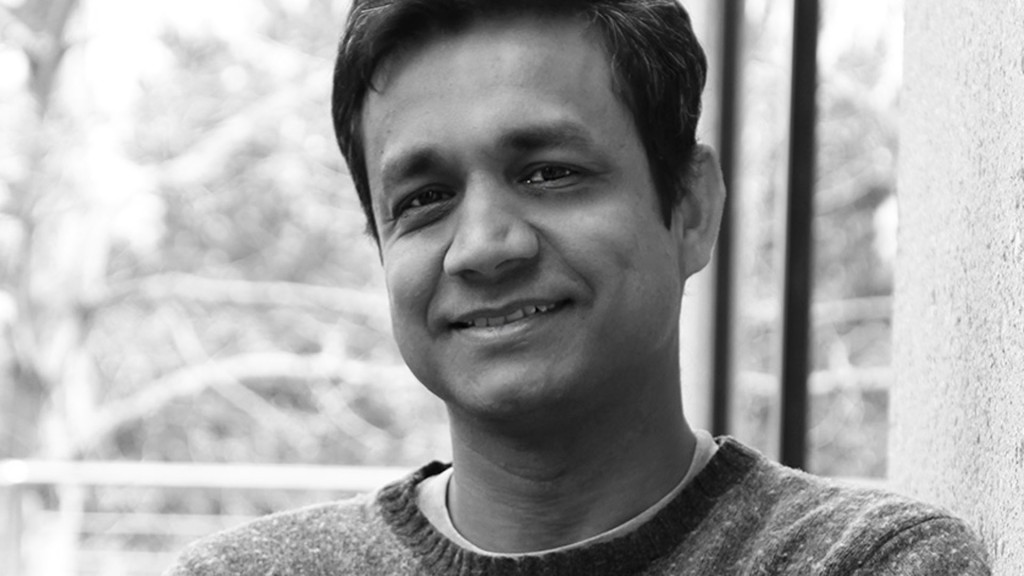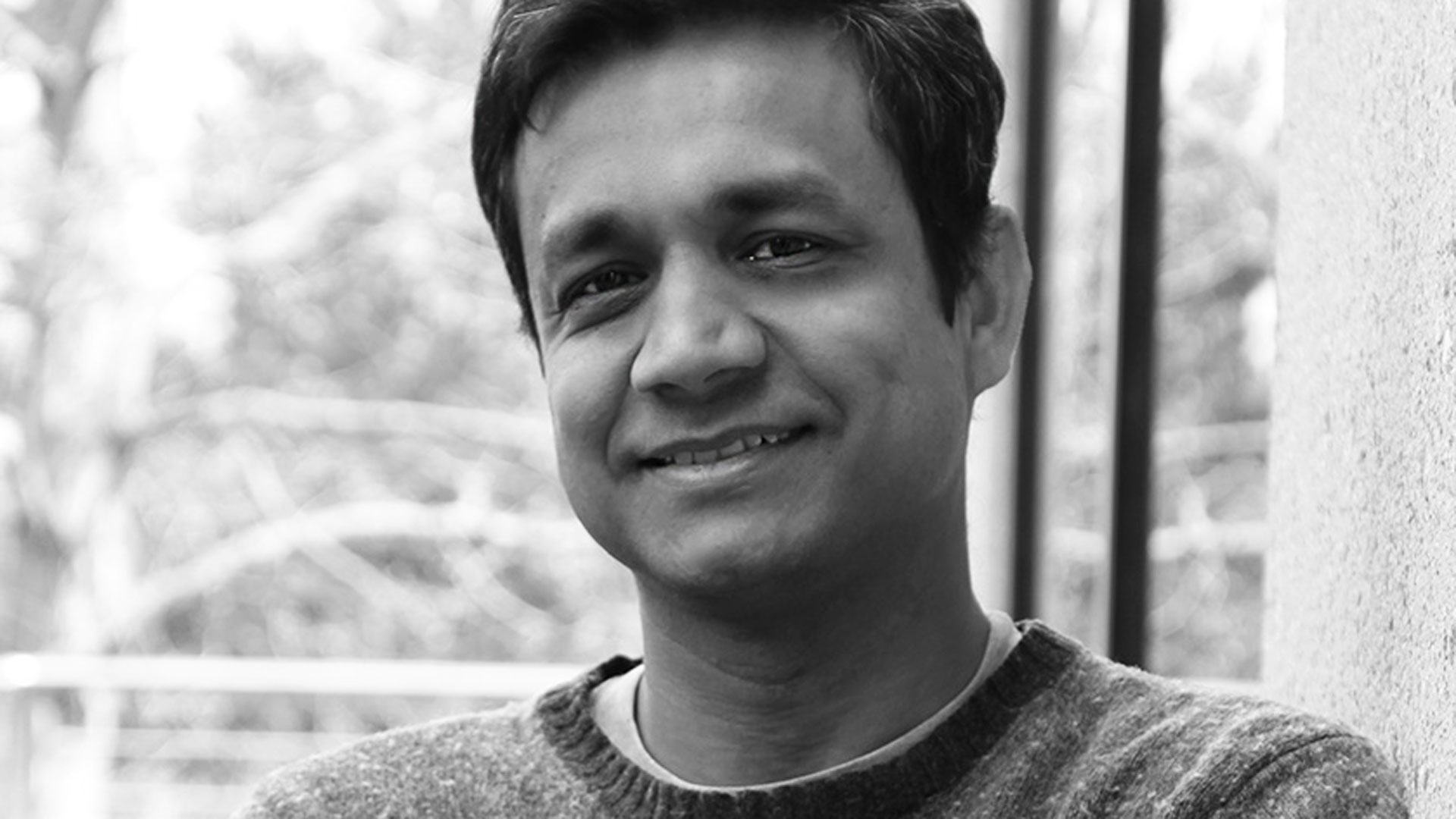 Naatak co-founder Sujit Saraf, the writer and director of "Mr. India," based the play on his novel "The Peacock Throne." (Naatak photo)
"I am finding it amusing that Trump is a credible candidate to the presidency," said Saraf, one of two founders of the company. "Americans are no strangers to unsuitable candidates rising to positions of great power, living through the age of Trump. One would think America would be a more mature democracy."
The play examines many aspects of life in India, specifically set in the overcrowded market of Delhi, India's capital territory. With the 1984 anti-Sikh riots as the backdrop, a Sikh man finds shelter in the tea seller's shop during those riots. While the tea seller is credited with saving the Sikh man's life, the man later realizes he has lost a half-million rupees that he spends two years trying to get back from the tea seller. A series of events from that initial meeting ultimately leads to the tea seller somehow scaling the political ladder. The tea seller now has to navigate a plethora of hangers-on and sycophants while being pushed to such great power. No one is above morality in this tale, even the title character.
Saraf's novel spans 14 years, so practical changes were needed in order to make a running time in the theatre more manageable. There are also some style changes, namely the fact that the entire play rhymes, in the style of a two-hour poem.
Saraf describes much of the music as "heckling type songs." Yet the songs are also joyful and funny.
For Saraf, the adaptation was an opportunity to rethink the entire story in ways that fit nicely into a theatrical setting.
"A novel I feel can afford great detail that a play can't," said Saraf. "It's very easy for me to get into the intricacies of Indian politics, but in a play I don't have that luxury."
"If you were to read my novel aloud, it may be at least 10,000 to 15,000 minutes, so I've had to turn a 15-hour pseudo play into a two-hour play, which requires the removal of lots of nuance. But I am also given the option of putting in visual appeal, beautiful music and beautiful sets."
WHAT TO KNOW IF YOU GO
Naatak Indian Theatre presents "Mr India"
Written and directed by Sujit Saraf
Based on Saraf's 2007 novel "The Peacock Throne"
In Hindi with English supertitles
Running time: Two hours, 20 minutes with a 15-minute intermission
Through Oct. 2nd
Cubberley Theater
4000 Middlefield Road
Palo Alto, CA 94303
Tickets range from $22 – $35
For tickets, call (408) 499-5692 or visit www.naatak.com
Visit http://www.naatak.org/portfolio/mr-india-2016/ for more information.
Comments
comments