Harish Agastya's speech at the Distinguished Artist of the Year award ceremony
January 7, 2017 CityOfCupertino / DistinguishedArtist / Harish Agastya
"I always caution my friends never to thrust a microphone in front of someone who comes from the performing arts – every speech is a performance. That is why they cut the audio out after 2 minutes in the Oscar awards. I will try in spite of myself to keep this brief.
The last time I was at this venue (the Cupertino Senior Center) was when I brought my dad over to become a member here. To be felicitated in this venue with a Distinguished Artist award makes me feel like I have arrived. 🙂 No, seriously, I would like to deeply thank everyone from the City of Cupertino Fine Arts Commission for this award. When I embarked on my personal theater adventure 21 years ago, I had not imagined I would be standing here today.
In some ways, my journey and the journey of my like-minded colleagues at Naatak follows the storyline of a typical garage startup in Silicon Valley. We sought to address a market need – an arts imbalance and an under-appreciation of theater due to self-selection of technical professionals in Silicon Valley. Our plan was simple – stage high-quality thought-provoking and relevant plays and gradually inspire the community to develop a culture of theater-going. Over the years, Naatak has gradually grown into the largest Indian American theater company in the nation, has been featured on BBC and NPR, and has won Best Live Theater In Silicon Valley from the San Jose Mercury News for the last 2 years.
I would like to thank a few people without whom I would not have achieved this award:
– My comrades and fellow board members – Sujit Saraf, Rajiv Nema and Manish Sabu from whom I have learnt a lot and with whom, I have shed blood, sweat and tears in our common cause.
– The hundreds of Naatak members – who volunteer their time – sets and props designers, costumes and makeup teams, light and sound personnel, without your shoulders to stand on, none of these productions would have been possible
– And lastly my immediate family, Soumya- my wife of 21 years – she jokes that she is my second wife after Naatak – for being my pillar of strength all these years, and for inspiring our kids Rithvik and Diya into the wonderful world of theater.
And lastly a word towards the future. Our journey is far from finished. The arts imbalance in Silicon Valley is not just an Indian American issue – it is a community-wide problem. We need to keep doing what we set out to do, to bring some STEAM into STEM-heavy Silicon Valley, and inculcate a culture of theater-going and arts appreciation in the community. I look forward to working with like-minded individuals from the City of Cupertino and the Bay Area in making this happen."
-HARISH AGASTYA
Actor. Director. Playwright.
@NAATAK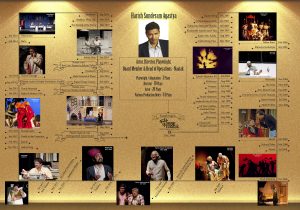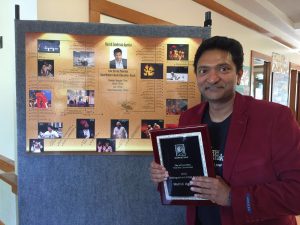 Comments
comments