Rabbit Hole By Naatak – An avalanche of emotions that slowly settles in you
July 19, 2015 David Lindsay-Abaire / Rabbit Hole / Reviews / Vinod Narayan
This article was published on June 20, 2015 by Vinod Narayan
Rabbit Hole By Naatak – An avalanche of emotions that slowly settles in you
By Vinod Narayan
Handling Bereavement, the intensity and duration of it are different for different people, there is no one single point when you can say it has completely ended. It becomes dormant for some and shows itself every now and then till we really forget that it exists. But we also are sandwiched between the need to forget and the guilt of forgetting. The struggle between holding on and letting go.
After a person leaves us we are left with the things that remind us of them. We are also incapable of making the decision whether we should hang on to them. But there is a natural law that we all should abide with we should never allow the 'dead' to make it difficult for the 'living' to live. Very easy said than done and when it is a 4 year old kid who has been flowing like the live blood through the house and family relationships, it kind of shreds all familiar existence we know.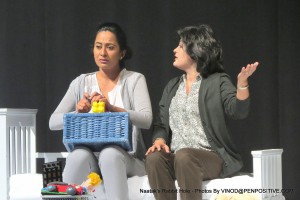 There is an unknown distance that is created between people which has to do either with the complexity of grief in different people or may be the incapability for many to connect and move with grief on their back. Many totally avoid the existence of grief but in that process offend those who feel the responsibility to grief. It is a very complex theme to be enacted in a 2 hour play and makes the Audience pass through a series of silent thoughtfulness and quite unpredictable bursts of laughter.
'Rabbit Hole' is the second Naatak Play I watched, the first one was 'Party'. Naatak is the biggest South Asian Theatre run by some passionate theatre artists and volunteers who have been bringing plays to the SF Bay Area for the past 20+ years I guess.
Rabbit Hole is a play written by David Lindsay-Abaire and was the recipient of the 2007 Pulitzer Prize for Drama. It is about this Palo Alto family who have lost their only child to an accident and how that loss has impacted them as well as people connected with them and the incident.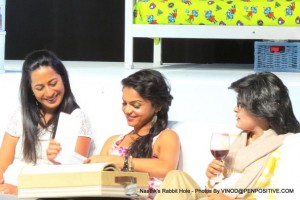 This is the first time I believe Naatak has taken an English play in this Genre and done it in an Indian context and according to the director and one of the actors in the play Harish Sunderam Agastya, the script was so universal that he just had to change the names to completely move it to an Indian American setting.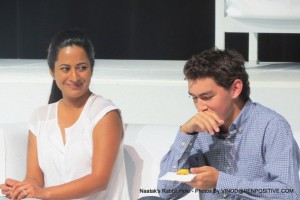 I have seen Kamala Subramaniam in the play Bhopal before and this is the second time I am seeing her on stage. Kamala plays Dipika one the main roles of the mother whose child dies in the accident. Harish plays Avinash the Father. Geeta Rai plays 'Nandini' Dipika's mother. Prathima Vadiraja plays Ishika who is Deepika's sister and finally we have Grayson Richmond as 'Jason' the teenager who drove the car that was in the accident.
Wonderful performances by the five actors for an amazing script and I am looking forward for Naatak's next production 'Vrindavan' in September. Rabbit Hole is having their last and final play today, Saturday Jun-20 at Cubberly Theatre. Don't miss it and get your tickets and go watch it.
Comments
comments